Announcements
City Offices Closed for Labor Day
---
Vacation Premise Checks
---
Free Summer Parking Ends Soon!
---
City Hall is Moving
---
Business Recognition Program
---
Food Scrap Drop-Off Program
---
Keep Grass Clippings Off the Street
---
Bulk & Special Trash Collections
---
Want to Plant a Tree?
---
Items Available for Purchase at DPW
City Offices Closed for Labor Day Holiday
All City offices will be closed on Monday, September 2 for the Labor Day holiday. The refuse and recycling schedule will adjust as follows the holiday week:
Monday collections will occur on Tuesday, September 3
Tuesday collections will occur on Wednesday, September 4
Wednesday collections will occur on Thursday, September 5
Special and brush collections will only occur on Friday, September 6.
Free Summer Parking Ends Soon!
Once again, parking in the Downtown Garage and City Hall lot on weekday nights and weekends will be free for the summer. Now through August 18, 2019, the Downtown Garage and City Hall lot will have free parking after 5:00 p.m. Monday through Friday, and all-day on weekends. Be sure check out a restaurant or local business during this summer!
Vacation Premis Check Request
City Hall is moving!

With construction of the new City Hall scheduled to begin early next year, the current City Hall at 4500 Knox Road is closing.
Beginning September 1, 2019, all Mayor and Council meetings will take place at Davis Hall (9217 51st Avenue).
On Monday, October 7, the Department of Planning, Community & Economic Development and the Parking Enforcement Division of the Department of Public Services will relocate to 8400 Baltimore Avenue Suite 340 (co-located with the Department of Public Services). Parking permits will still be issued at the current City Hall until October 14.
On Monday, October 14, Administration, Finance and Human Resources will relocate to 8400 Baltimore Avenue Suite 375.
Effective October 15, 2019, the new mailing address for City Hall will be 8400 Baltimore Avenue Suite 375, College Park, MD 20740. City phone numbers and office hours (Monday – Friday, 8:00 a.m. to 6:00 p.m.) will remain the same.

For more information about the City Hall project, please visit www.collegeparkmd.gov/cityhall.
Business of the Year Recognition Program
College Park's growing and vibrant business community is full of unsung heroes who provide well-paying jobs for our residents, develop creative solutions to everyday problems, and take care of the community that they call home.
To show our appreciation for these outstanding businesses and their positive impacts on our community, the City has recently developed a Business of the Year recognition program. The program is designed to highlight the contributions of one particularly outstanding business each year.
Residents and business owners are encouraged to nominate their favorite businesses for the reward. The winning business will be announced in October and will receive a plaque to place in their establishment.
Nominations are accepted via the online web form on our website now through August 31, 2019. For details or to nominate a business, visit www.collegeparkmd.gov/econdev.
Food Scrap Drop-Off Program
More than three tons of food scraps have been diveretd from the landfill since the program began in April!
Five-gallon buckets are available at the Department of Public Works and are a great way to collect food scraps.
Drop off your collected food scraps at the City's Department of Public Works or at the Hollywood and Downtown Farmers Markets (Saturdays from 9:00 a.m. to 1:00 p.m. and Sundays 10:00 a.m. to 2:00 p.m. respectively). Free compostable bags are available at the location at DPW.
For more information about how to collect or drop-off food scraps, please visit collegeparkmd.gov/foodscraps.
Collecting food scraps and food soiled paper products is easy. When preparing meals, separate food scraps from other garbage to divert this organic material from the landfill to a composting facility.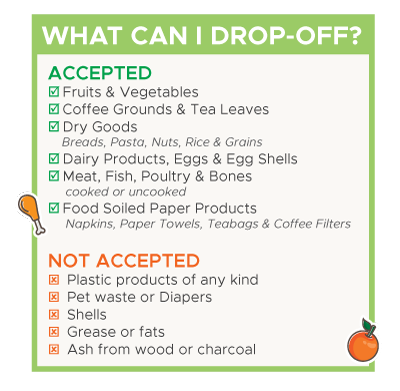 Keep Grass Clippings off the Street!
As you take care of your lawn this season, do not sweep or blow grass and leaves into the street. Lawn clippings and debris left on the street can clog storm drains and storm sewers and may lead to flooding. That same debris is also transported through local waterways and eventually to the Chesapeake Bay, threatening aquatic life and drinking water quality.
Leave grass clippings on the lawn to recycle the nutrients or start a compost pile in your backyard (click here for a brochure from the Maryland Department of Agriculture). Or you can place clippings in paper bags or reusable containers for weekly curbside pickup (same day as your trash and recycling collection).
Bulk and Special Trash Collections
The City collects four different types of special or bulk trash on Thursdays and Fridays by appointment.
Bulk trash (furniture, mattresses wrapped in plastic, large bulky items, etc.)
White goods & metals (washers, dryers, mowers, bikes, metal file cabinets, etc.)
Electronics for recycling (TVs, computers, printers, etc.)
Brush and Logs
See a truck on your street that didn't pickup your collection? The trucks pick up one type of item at a time, so make sure that your special trash is separated by source/type.
Don't place items at the curb until you have scheduled an appointment. Call or email the Department of Public Works at 240-487-3590 or publicworks@collegeparkmd.gov to schedule. Have your items at the curb by 7:00 a.m. on your scheduled day.
Trees provide many benefits such as reduction of cooling and heating costs, interception of rain water, increasing property values and improving air quality. The City offers a few ways to help you plant trees in your surrounding area.
REQUESTS FOR STREET TREES


The City has a program that provides for street tree planting in the right-of-way area, which includes the grass strip between the curb and sidewalk. Residents interested in requesting a tree can contact Brenda Alexander at 240-487-3590 or balexander@collegeparkmd.gov. The location will be inspected to determine if it is suitable.

TREE CANOPY ENHANCEMENT PROGRAM (TCEP)


City property owners can apply for reimbursement of up to $150.00 annually, for approved tree(s) planted on their residential lot. The completed application should be sent to balexander@collegeparkmd.gov for review and approval. Click here for a link to the guidelines and application.
Items Available for Purchase at the Department of Public Works
---
Rain Barrels $72.00
Rain barrels are a great way to keep runoff from leaving your home. Outdoor watering accounts for a large percentage of water consumption. By having a rain barrel and storing rainfall, you'll have water for outdoor irrigation. Size is 50-gallon.
Once installed, Prince George's County residents can apply for a Rain Check Rebate, off-setting most of the cost!
Rain barrels come with lid, overflow cap, pre-installed screen and ring, flex overflow hose, ball valve - spigot, re-usable zip ties, hose clamp and rubber washer. Diverter kit is not included.
Backyard Compost Bin $20 City residents/$40 non-residents
Composting is a great way to dispose of your household food waste and yard waste diverting them from the landfill.
Size: 33" high x 31" wide, large capacity – 11 cubic feet with convenient 12"x16" offset, front access door.
Yard Waste Carts $25 for City residents
The beige yard waste cart can be used for either "soft yard waste" or "woody yard waste." The two products are collected on separate days and processed into different products.
This sturdy cart has wheels and a lift-bar for easy collection. Using the yard waste cart can save time and money – single use paper lawn bags become expensive over time and can tear or fall apart when wet.
SMARTLEAF® Compost & Wood Mulch
SMARTLEAF® compost is $28.00 per cubic yard, and wood mulch is $12.00 per cubic yard. Delivery is available for a fee. Material may also be picked up at the Department of Public Works.
Bring your open-bed pickup truck or trailer and material can be loaded in your vehicle for you. Trucks with a 4' bed can hold ½ a cubic yard, a 6' bed can hold 1 cubic yard, and an 8' bed can hold 2 cubic yards.
Don't have a truck? Bring a shovel and your own containers (bins, buckets, bags, etc.) and be prepared to load your containers yourself. We sell in 1/4 cubic yard increments.
½ cubic yard is approximately 20 five-gallon buckets
¼ cubic yard is approximately 10 five-gallon buckets; or 3 paper yard waste bags filled half full
For more information click here to visit our web page, or call us at 240-487-3590 or email publicworks@collegeparkmd.gov.